The Future of DeFi: Intents and Resolvers
Dubai, UAE, 16th November 2023, Tigran Bolshoi, one of the co-founders of Kinetex, attended the ZK Community Meetup in Istanbul to report on the new cross-chain standard that allows instant swaps using intents.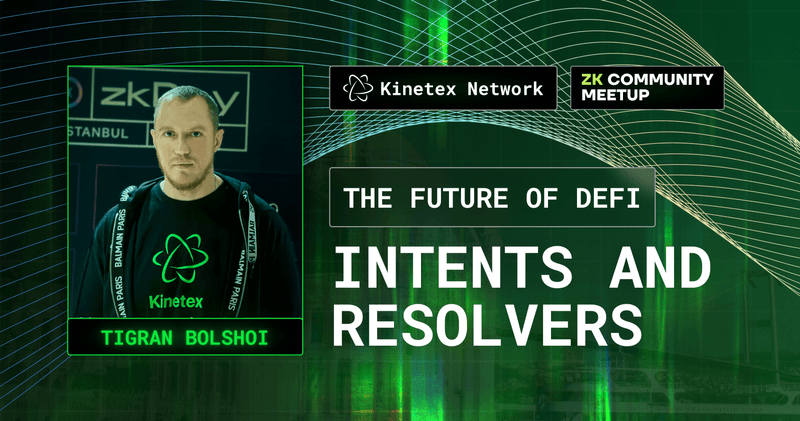 Major Problems
Cross-chain faces three significant issues: security, user experience, and unfavorable conditions. Let's look at each of them closer.
The first problem is security. Several factors may compromise it. First, projects must put their trust in third-party validators to validate new transactions. While this approach allows many users to participate in the maintenance of the blockchain ecosystem, it unfortunately also threatens its soundness. Validators can be attacked, damaged, or compromised in any other way, thus threatening the system's security, users, and funds. Therefore, approaches without validators are highly advantageous.
The second problem is the poor user experience, which arguably scares away even more users than security issues. Users have to perform a lot of actions to be able to swap various assets, such as switching wallets, searching for the optimal routes for multi-part swaps, finding better rates, and so on. The complexity and non-user-friendliness make it almost impossible for users, especially novice ones, to figure out, so they tend to stay on the bigger centralized platforms instead of exploring DeFi.
The third big problem is unfavorable conditions. There are too many commissions and fees to consider when swapping crypto assets. Users have to pay for gas in each network for each data transfer, as well as pay liquidity providers, validators, smart contracts, bridges, DEXes, and so on. Additionally, they must think about other factors affecting rates, such as slippage and price impact. Finally, users must store all native coins for all gas payments and always calculate a sufficient amount, which can often be almost impossible.
Intent-based Approach
Intents represent a new approach to making transactions that can help to overcome the challenges described above. With intents, users can achieve their desired results without choosing the methods to achieve them. While in a standard transaction-based flow, a transaction signature enables the validator to follow precisely one route, intents allow any route that meets certain criteria to be taken.
Such an approach enables two things. Firstly, it removes the burden of making decisions from users, delegating it to professional players. Secondly, it allows for more flexibility while making swaps, which can be helpful in a volatile and always-changing crypto market.
Intents & Resolvers
The proposed Kinetex approach looks as follows. First, a user sends a request for an order. Then, resolvers (professional market makers) compete with each other by offering prices. Whoever wins executes the order, including making all gas payments. Note that all resolvers must deposit collateral to be able to complete orders, which can be liquidated if something goes wrong. As a result, users can enjoy an easy, instant, and profitable swap process, forgetting about choosing routes, storing native coins specifically for gas payments, and worrying about possible security implications.
Another vital component of this intent-based approach is Zk light clients presented by Kinetex at the ETHGlobal hackathons in Lisbon and Paris this year. They can perform on-chain verification of block headers, allowing transactions across different networks to be validated as efficiently and securely as possible.
Kinetex Network: Website | Kinetex dApp | Twitter | Blog | YouTube
Disclaimer: The views, suggestions, and opinions expressed here are the sole responsibility of the experts. No Funds Trend journalist was involved in the writing and production of this article.